NAUI Scuba Diver Course

NAUI Scuba Diver Course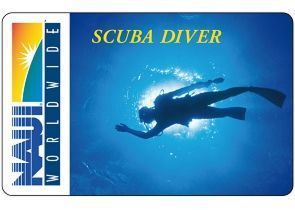 Scuba Diver Certification Card

Do you not begin diving in earnest at Miyako Island?
You make your debut as a diver in a minimum period of 2days, too!
Scuba Diver is our entry level scuba certification course during which you will learn the fundamental knowledge and skills to safely scuba dive in open water. When you complete your class you and your buddy will be free to explore and discover the many wonders of the underwater world and, you will have earned a NAUI Scuba Diver certification card, the most respected diver certification card in the world!
In 1960, the world's first NAUI was founded in California as a non-profit educational institution. NAUI have a dive master and an instructor more than approximately 50, 000 in the base more than approximately 100 countries in Asia, Australia, Europe, Africa, Japan including the United States.
The C card is abbreviation of "Certification Card". It becomes a certificate proving that you acquired diving knowledge and a technique. C card is issue depending on each rank.
The C card proves the authorized diver in all the countries of the world.
NAUI Scuba Diver Course
Schedule and Details
You go a restricted confind water and open water training, the subject class based on the program of the NAUI scuba diver in 3 days.
Please do home learning while watching the teaching materials and DVD of NAUI beforehand in the course for 2 days.
You may enjoy Miyako Island sightseeing by home learning more.
| | |
| --- | --- |
| First day | Classroom theory, Confind water training |
| Second day | Classroom theory, Open water (2 training dives) |
| Third day | Classroom theory, Open water (2 more training dives ), Final test |
Information and Course Prices
You can apply at the same time of a NAUI Scuba Diver Course and NAUI Advanced Scuba Diver Course.
In this case a schedule of 5days is necessary, and price is 10% discount.
In case of 2-day course, a text fee of 20,000 yen will be charged in advance.
It is not possible to apply for a 2-day course within 2 weeks from the date of the event.
| | |
| --- | --- |
| 2Days NAUI Scuba Diver Course | ¥49,000 |
| 3Days NAUI Scuba Diver Course | ¥55,000 |
| 5Days NAUI Scuba Diver Course + NAUI Advanced Scuba Diver Courses | ¥92,650 |
NAUI Scuba Diver Text Book and DVD, Cylinder(Steel Tank), Equipment, Weight, Drink, Lunch, Tax, Insurance, Pickup and Drop off, C card application charges
About pickup
Pick-up is included in the price. However, pick-up and drop-off during the busy season may be difficult. In this case, please directly to meeting place by car.
Cancellation after booking
Cancellation after 19:00 the day before: 50%
Cancellation of activity day: 100%
If you cancel before the 2-day course is held, you will be charged 20,000 yen for the teaching materials.
For cancellations after the course is held, a 100% cancellation fee will be charged.
Cancellation and delay of a plane and ferry are excluded.
In case of typhoon or bad sea conditions
- There are no cancellation fees for travel cancellations, aircraft delays or cancellations.
- If the training cannot be done due to the deterioration of the typhoon or the sea condition, we would like to consult with you and decide the schedule again.
- NAUI Scuba Diver Text Book and Writing instrument,
- Please come to wear a swimsuit, bring a change of clothes and a towel.
- Hat, Sunscreen, Sunglasses
- If you are concerned about seasickness, please take motion sickness medicine beforehand.
- Please wear warm clothes in winter.