NAUI Master Scuba Diver Course

NAUI Master Scuba Diver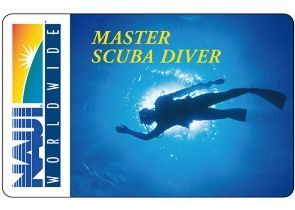 NAUI Master Scuba Diver Certification Card

The course that becomes application of skill that you cultivated in advance scuba diving and specialty diver. You master knowledge and the technique of the superlative degree level necessary for recreational diver. It is a course to make step-up to leadership course.Even the dive site diving for the first time make a plan and come to be able to enjoy diving.

Course details
Classroom theory. Open water 8 dive or more.
- However, if you have more than 30 log records since you met the participation requirements and the instructor in charge knows the diving ability of the participant, you can be qualified by passing the written test.
Required

Emergency procedures and rescue

Deep diving, simulation of decompression diving

Night diving or low visibility diving

Underwater navigation

Search and recovery, light salvage

Choice of diving activity

Skin Diving

Review of the basic skills of scuba

Underwater environmental investigation

Diving activities suitable for the area

Diving activities suitable for local

Classroom session

Diving equipment

Diving environmental

Diving physical

Diving physiology

Decompression and recompression
Course Price
| | |
| --- | --- |
| NAUI Master Scuba Diver (4days) | ¥85,000 |
15 years old or older.
NAUI Scuba Diver,NAUI Advanced Scuba Diver,NAUI CPR&First Aid,NAUI Rescue Specialty Diver,Specialty(More than 3 kinds) qualification is necessary.
Equal level of other certification agencies.
NAUI Master Scuba Diver Text Book and DVD, Cylinder(Steel Tank), Weight, Drink, Lunch, Tax, Insurance, Pickup and Drop off, C card application charges
About pickup
Pick-up is included in the price. However, pick-up and drop-off during the busy season may be difficult. In this case, please directly to meeting place by car.
Cancellation after booking
Cancellation after 19:00 the day before: 50%
Cancellation of activity day: 100%
For cancellations after the course is held, a 100% cancellation fee will be charged.
Cancellation and delay of a plane and ferry are excluded.
In case of typhoon or bad sea conditions
- There are no cancellation fees for travel cancellations, aircraft delays or cancellations.
- If the training cannot be done due to the deterioration of the typhoon or the sea condition, we would like to consult with you and decide the schedule again.
- Training logbook, logbook, Certification card.
- NAUI Master Scuba Diver Text Book and Writing instrument,
- Please come to wear a swimsuit, bring a change of clothes and a towel.
- Hat, Sunscreen, Sunglasses
- If you are concerned about seasickness, please take motion sickness medicine beforehand.
- Please wear warm clothes in winter.