NAUI Advanced Scuba Diver Course

NAUI Advanced Scuba Diver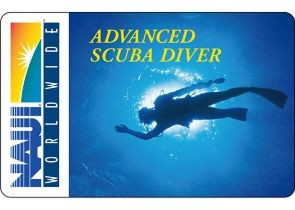 Advanced Scuba Diver Certification Card

If you want to enjoy more topography on Miyakojima, the advanced course is a must!
You can get Advance with 4 dives in 2 days!
Once you have completed your NAUI Scuba Diver Course the next step is to select the NAUI Advanced Scuba Diver Program.
Apply your scuba skills as you explore new dive sites and activities under the supervision and training of your NAUI Instructor. Learn which diving specialties interest you, and what type of diving you enjoy most.
Advanced Scuba Course Required Theme
Required theme is Boat diving, Deep diving and Navigation.
Boat diving

You learn the entry in various boats, technique to dive.

Deep diving

World of underwater 30m.

You learn about a risk of the deep diving.

Navigation

You learn compasses navigation and natural navigation.
Advanced Scuba Course Choice Theme
In the NAUI Advenced Scuba Diver Course, you carry out a choice 1theme other than 3required themes.
You can select one of the interesting theme.
Night diving

Diving in the night ocean, low visibility diving.

Search and recovery

It is practiced the search using various search methods.

Treasure hunts...

Underwater photography

You learn technique or matters that require attention of the digital camera photography in underwater.

Wreck diving

You learn experience and the matters that require attention of wreck dive.

Using dive computers

You learn about how to use dive computer, instructions, indication.
Course Detaile and Price
Open water 4 dive or more.
3 required theme + 1 choice theme
Classroom theory.
| | |
| --- | --- |
| NAUI Advanced Scuba Diver (2days) | ¥42,000 |
Healthy and 15 years old to have NAUI Scuba Diver or older.
10 years old to have NAUI Junior Scuba Diver or older.
You can join as NAUI Junior Advanced Scuba Diver in the case of 14 year old from 10 years old.Equal level of other certification agencies.
NAUI Advanced Scuba Diver Text Book and DVD, Cylinder(Steel Tank), Weight, Drink, Lunch, Tax, Insurance, Pickup and Drop off, C card application charges
About pickup
Pick-up is included in the price. However, pick-up and drop-off during the busy season may be difficult. In this case, please directly to meeting place by car.
Cancellation after booking
Cancellation after 19:00 the day before: 50%
Cancellation of activity day: 100%
For cancellations after the course is held, a 100% cancellation fee will be charged.
Cancellation and delay of a plane and ferry are excluded.
In case of typhoon or bad sea conditions
- There are no cancellation fees for travel cancellations, aircraft delays or cancellations.
- If the training cannot be done due to the deterioration of the typhoon or the sea condition, we would like to consult with you and decide the schedule again.
- Training logbook, logbook, Certification card.
- NAUI Advanced Scuba Diver Text Book and Writing instrument,
- Please come to wear a swimsuit, bring a change of clothes and a towel.
- Hat, Sunscreen, Sunglasses
- If you are concerned about seasickness, please take motion sickness medicine beforehand.
- Please wear warm clothes in winter.