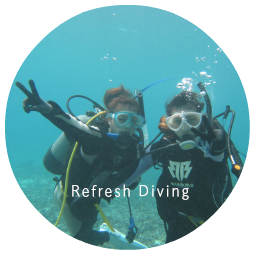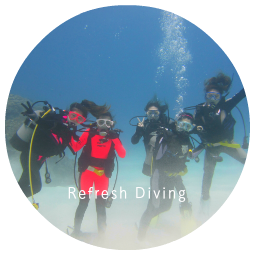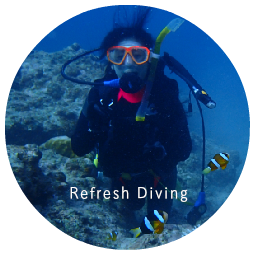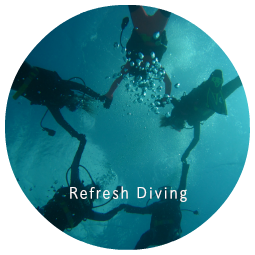 Miyakojima Refresh Diving



・Scuba Equipment
 (Assembling Scuba Equipment,Disassembling Scuba Equipment)
・Mask Skills
 (Clearing Water From Your Mask)
・Regulator Skills
 (Breathing Underwater,Clearing Your Regulator,Recovering Your
 Regulator)
・Buoyancy Skills

Winter Prices
Until 23/APR/2020
Normal Prices
24/APR/2020-30/NOV/2020
| | |
| --- | --- |
| 2Tank Boat Refresh Dive | ¥13,000 |
| 3Tank Boat Refresh Dive | ¥18,000 |
| 2Tank Beach Refresh Dive | ¥11,000 |

| | |
| --- | --- |
| 2Tank Boat Refresh Dive | ¥15,000 |
| 3Tank Boat Refresh Dive | ¥20,000 |
| 2Tank Beach Refresh Dive | ¥12,500 |

Inclusions:
Cylinder,Weight,Guide,Drink,Lunch,Tax,Insurance,Pickup
Cancellation Policy
It takes cancellation fee of 50% of tour fares after 19:00 of the day before.
Cancellation and delay of a plane and ferry are excluded.


Full Rental

JPY3,500

Regulators

JPY1,000

BCD

JPY1,000

Wetsuits

JPY1,000

Set (Mask / Fins / Snorkel / Boots)

JPY1,000

Only one (Mask / Fins / Snorkel / Boots)

JPY500

Underwater Digital Camera
(Price Includes images to a CD or DVD)

JPY1,000

Torch

Free
All rates are per person per day.
Digital camera is not included in a full rental.
Please let us know your body size at the time of booking person of equipment rental.

Please pre-check on the health status
You would like a healthy check to have all of you participated in are safe and enjoy diving in peace.

---
Book and Contact